Big Foot Snowshoe Race - January 20, 2018

This event takes place at the beautiful log lodge at Timber Ridge Resort. The pre-race mood is just fun! The usual crowd is about 500. Snowsnow rental is available.
The course is a super hilly off trail run with plenty of logs to jump and branches to duck, like a leg of Dances with Dirt! 5K & 10K course availanle. Race begins at 9am.

---
Frozen Foot Race: January 27, 2018
The Frozen Foot Race is a 5 Mile Run/Walk through great neighborhoods at the base of the Old Mission Peninsula. Varied terrain and temperatures are just a few things found at this great race!
5 year age groups, awards for top 3 in each age group!

---
Betsie Bay Frozen 5K: February

17, 2018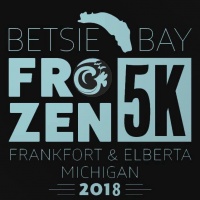 A fun 5k in the midst of February! For crazy runners who are willing to face 10-degree temperatures and 30-mph gusts off Lake Michigan. Can you handle it?

The course starts at the top of Elberta's beautiful lookout of Lake Michigan and continues down the hill through Elberta, around the bend, along Betsie Bay via scenic M-22, then heads into Frankfort at Main Street, with a finish at the other end of downtown, just before you reach the lighthouse.


---
Leapin' Leprechaun 5K: March 17, 2018
You won't need the luck of the Irish to enjoy the National Cherry Festival's 8th Annual Fifth Third Bank Leapin' Leprechaun St. Patty's Day 5K foot race! Join us on Saturday, March 17 at 9 am in Traverse City's Warehouse District and put on your GREEN! After your run, stay with us for the Post Race Party at the Workshop Brewing Company!
Each racer will receive a commemorative t-shirt, accurate timing and results, medals for top finishers, prizes for best Irish costume, a complimentary beverage (must present photo ID), and free entertainment!

---
Save the date! See trednorth for event calendar

Big Foot Snowshoe Race - January 20, 2018
Frozen Foot Race - January 27, 2018
Betsie Bay Frozen 5K - February 17, 2018
Leapin' Leprechaun 5K - March 17, 2018
---
Event promoters, please contact us and take advantage of a listing on our calendar and email newsletter blasts.
---
What is TRED?

Traverse Region Event Directive's mission is to celebrate healthy living through the promotion of quality competitive events in the Greater Grand Traverse Area.
The TRED email newsletter is a monthly email blast that reaches over 10,000 people in the Grand Traverse area. Our goal is to share information and contacts and to bring the power of numbers to each event, promoting quality athletic events in our amazing location. Be sure to check out our event calendar to find out what is going on in and around Traverse City. If you are a runner, a cyclist or anyone that appreciates healthy living this is the place for you. Visit our TREDNorth website at trednorth.com.
---
TRED eNews is digitally powered by Byte Productions