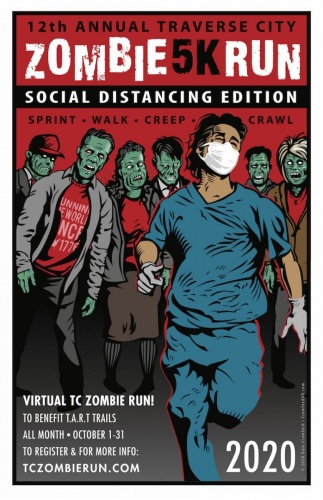 Zombie Run 5K
October 1st - 31st, 2020
The 12th Annual Traverse City Zombie Run 5K is underway and it's not too late to partake in the festivities! Sprint, walk, creep, or crawl with us until October 31st for your chance to win some awesome prizes.
This year's event is a special "social distancing edition", held virtually throughout the month of October. Registered partricipants can run or walk the official Zombie Run course, or any other 5K route, that they may prefer. For those that do run the official course, make sure to take a pit stop at Right Brain Brewery and take a selfie to share with us!
All registered participants will receive a ZR gaiter and a commemorative 2020 race bib. Gaiters and race bibs will be available for pick up at Right Brain Brewery during the month of October.
Of course, we're giving out awards for best costumes (it's the Zombie Run right?!) Prizes will be awarded for the best adult male and female and best child male and female. To be eligible you must take a picture or video with your race bib on and send it to janna@traversetrails.org or upload to Facebook or Instagram by tagging @TARTTrails and #TCZombieRun

---

Up North Media Traverse City Turkey Trot


November 12th - 26th, 2020
Join us this year for the 13th Annual Up North Media Traverse City Turkey Trot, presented by 4Front Credit Union! This race has been a place of joy, family, friends (furry ones too) and a place where memories and traditions are made. We are happy to announce we are carrying on the tradition in 2020! We are offering a 5K in-person and a 5K virtual race option.
In-person: Our in-person option will follow our usual route through beautiful Traverse City and along our gorgeous bay. In order to help eliminate risk and keep our event COVID-19 free, we ask that you read the Center for Disease Control's (CDC) recommendations for the prevention of the spread of COVID-19 and abide by their recommendations: https://www.cdc.gov/coronavirus/2019-ncov/prepare/prevention.html.
Virtual event: Run/walk anytime between November 12th and November 26th. This option allows participants to run or walk anywhere in the world with family and/or friends and still receive our commemorative long sleeved t-shirt. We want to continue to make memories with you so we ask that you share your results, experiences, memories and photos with us on our facebook page! Dress up or not we would love to hear where you ran or walked and see your smiling faces!

---

Resolution Run 2020




December 31st, 2020
Start your New Year off on the right foot ON NEW YEARS EVE with the 37th Annual Resolution Run. Join in the fun with 600 runners/walkers as you celebrate the New Year. This fun and festive event will be one to remember! The 4 mile event runs around Reeds Lake in East Grand Rapids, MI, on 12/31/2020 at 3:30 pm.
The race will start in front of the East Grand Rapids Police Station and will finish at the cross walk in front of Collins Park.